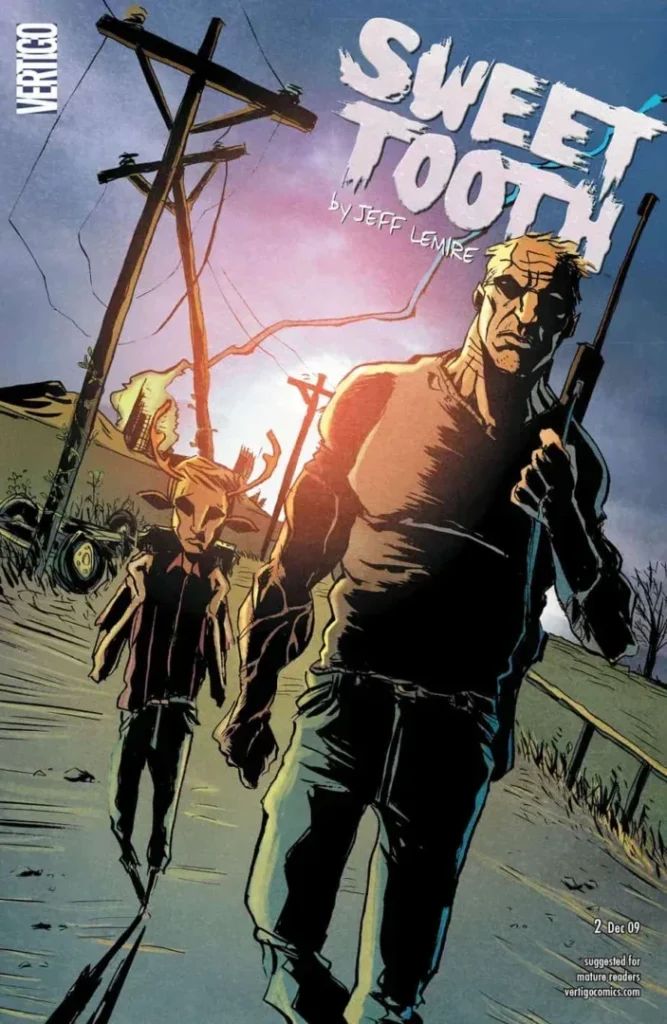 Jeff Lemire's Sweet Tooth is certainly one of the most intriguing comic books in recent years. The story of the human/animal hybrid Gus and his adventures in a dystopian world plagued by a deadly virus had gathered a large fandom over the years and has helped Sweet Tooth become one of those "indie" classics of the modern area. Still, Sweet Tooth is far from being an indie title. Despite the fact that it is not a mainstream title, Sweet Tooth is still a tile published by Vertigo, a subsidiary of the more famous DC Comics publishing house. I have decided to dedicate today's article to this exact topic, telling you where – if anywhere – Gus's fictional universe fits in. 
Sweet Tooth is, in a larger sense, part of DC Comics' fictional universe. Still, it is not directly related to any mainstream narrative and the connection is very superficial and not even close to being obvious. 
In today's article, I am going to tell you everything you need to know about the universe of Jeff Lemire's Sweet Tooth. You are going to find out whether Sweet Tooth is its own standalone universe or whether it is part of some larger comic book world. The exact relation of Sweet Tooth to other DC Comics' projects is going to become evident in this article, so prepare yourselves for an entertaining read and enjoy. 
Is Sweet Tooth part of the DC Universe?
Sweet Tooth is a series of comic books that was published by the American publisher DC Comics through its editorial line Vertigo between 2009 and 2013, with 40 issues in total. Created and produced by writer and illustrator Jeff Lemire, the series is set in a post-apocalyptic, dystopian future and takes place ten years after an event known as "The Scourge" devastated Planet Earth. All of the children born after the event are of a new species, a hybrid between humans and animals, including the protagonist, Gus, a boy with the traits of a deer. 
This is the synopsis of the comic book, in short: "The plot of the series, in the convention of post-apocalyptic horror, takes place after a mysterious plague called Accident, as a result of which billions of people have died on Earth and children are born in the form of animal-human hybrids. 
Vagabond Jepperd saves one of these children, the deer-looking at me boy Gus, from the hands of mysterious kidnappers. The orphan Gus travels with Jepperd to a sanctuary in Alaska, where there is a cure for the plague. During an expedition full of dangerous adventures, the two learn that Gus' deceased father may have been responsible for the outbreak."
Now that we know the basic information, I can continue with the analysis. Namely, after Crisis on Infinite Earths, which I have already talked about here, DC Comics significantly revamped its roster, leaving a lot of the stories with a proper home, which caused mild confusion. Now, things have changed, especially the question of the existence of a Multiverse. 
In that segment, as a Vertigo story, Sweet Tooth had its protagonists do a lot of things that are completely atypical for DC Comics' major scale characters and stories. Still, Vertigo remains a subsidiary of DC Comics, which means that all the stories published under the label are actually part of a larger DC Comics universe. This, in turn, means that Sweet Tooth is, indeed, part of the larger DC Universe. 
And it probably is, as much as I know. Which Earth is in question I don't really know as DC Comics has not been specific about this, but one can assume that it is actually part of the larger Multiverse, especially since the Doomsday Clock event, which again altered the timeline and opened spaces for more stories to become part of the larger, multiversal canon.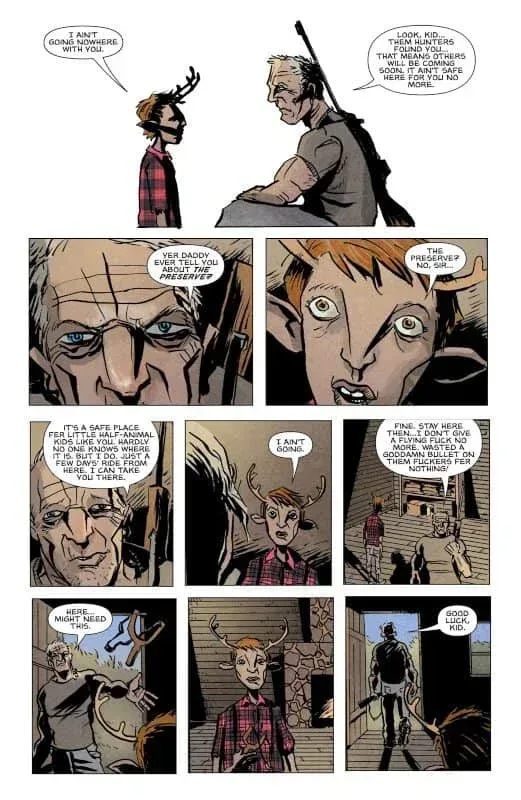 Is Sweet Tooth part of the DC Extended Universe (DCEU)?
This answer is much simpler. The DC Extended Universe (DCEU) began in 2013 with Zack Snyder's Man of Steel. Although the DCEU was supposed to unify DC's films and form a Marvel-like concept, the idea was soon dropped in favor of more individual movies based on different superheroes. 
The DC Extended Universe (DCEU) is a separate narrative universe, but observing the chaos within that universe, one can clearly deduce that the DCEU failed in its purpose. How does that relate to our question? 
Well, it seems that Sweet Tooth, now that we've established its position, might also be part of the DC Extended Universe (DCEU), right? Well, the answer is a simple no. First of all, the DC Extended Universe (DCEU) doesn't really have any television series that are part of it, with John Cena's Peacemaker yet to debut his own show that forms part of the DC Extended Universe (DCEU). 
The second reason why I am certain that Sweet Tooth is not part of the DC Extended Universe (DCEU), is because I've spent a lot of time reading over the books and the article and I am certain that they are not part of the DC Extended Universe (DCEU), as there is absolutely nothing that connects the. 
What is Sweet Tooth based on?
As far as we know, the Sweet Tooth comic book is based on an original idea by Jeff Lemire, who wrote and illustrated his story. There is no evidence that the comic book was based on material, although I am certain that Lemire had to draw inspiration from somewhere in terms of influence. 
On the other hand, if one accounts for Netflix's adaptation of the comic book that came out recently, the situation changes. Significantly. Namely, in that case, the television show becomes the main source, so we can deduce that it was based off on the actual comic book; although the producers did their best, the adaptation is still not 100% accurate. 
And with this, I can conclude the story of Jeff Lemire's Sweet Tooth, as I have presented it to you today. It was fun, I hope, and see you next time.