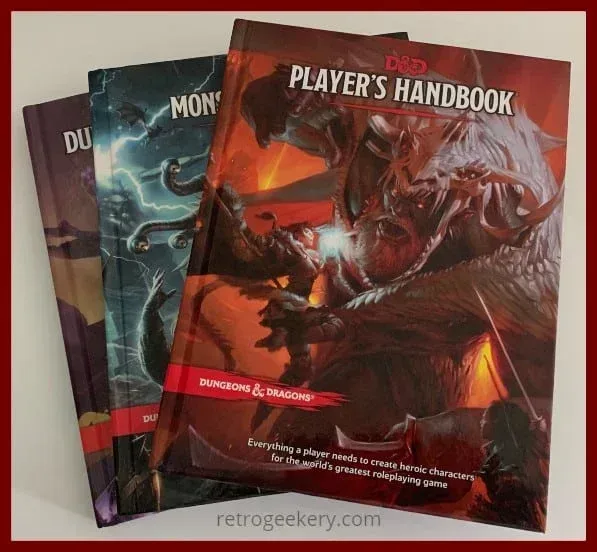 If you are an avid D & D player, there is a chance that you have gear from years ago laying around, like the classic player handbook, that you may be considering selling. This has probably led you to ask yourself, what exactly are Dungeons and Dragons books worth?
The real answer to this question has a lot of factors, such as the age of the book, the rarity, the condition, and more. However, there are some D & D books that are worth thousands.
Dungeons and Dragons is a classic tabletop game that takes you into the science fiction world and is a favorite amongst players everywhere. Though it is traditionally given a negative connotation that it is for nerds only, the game is truly a masterpiece that both adults and teens love. The game was originally released in 1974 and has only grown in popularity since.
You will find Dungeons and Dragons books on several resell websites like eBay and Amazon, which is a great way to compare what books you have and the current price they are selling for. Of course, putting your items up for sale does take some work on your part and could be time-consuming. However, this will pay off if you bring in a decent amount for the old books you have laying around.
Current Top Selling Dungeons and Dragons Books
The most collectible and valuable item that you can sell from the Dungeons and Dragons game is an original woodgrain boxed set. These were released back in 1974 and there were only 1,000 copies printed at the time. In fact, the original set was put together in inventor of the game, Gary Gygax's, kitchen with his family and friends.
Recently, mint copies of this original boxed set were selling for around $5,000 at auction. However, there are other more widely owned books that are selling for large amounts online today. If you have a copy of the tournament versions of Lost Caverns of Tsojconth, Ghost Tower of Inverness, or Lost Tamoachan, you could make upward of $1,000.
In fact, there are several copies of classic books that have been used in the game that are selling online for a decent price. Of course, this is always changing, and you need to do further research on the exact copies you have to see what they are worth. You should never settle, and it is better to hold onto your older books than selling them early for nothing.
Where to Sell Your Dungeons and Dragons Books
A big part of making money from your Dungeons and Dragons books is selling them at a reputable site. You should never use a website that seems less than reputable, and it is even better if you already know about the site. A few top choices for selling your used books are;
Amazon
eBay
Half Price Books
Bookscouter
You may have to try a few different selling platforms before you settle on one that works best for you. In fact, most used booksellers do not agree on their favorite selling platform. The best way to figure out where you want to sell your old D & D books is by browsing the available options and seeing what they are currently selling for.
If it seems like the books you have are not selling on eBay, you may want to opt for selling on Amazon. However, there are several other steps you should take before you begin selling your books.
How to Sell Your D & D Books Online
Once you have decided to sell your Dungeons and Dragons books, there are a few key steps you want to take to guarantee you are getting the most for your used books.
Step 1 – Find Out How Much the Books in Question are Selling for Online
As mentioned, the first step to selling your books online is by seeing what they are currently selling for. You will want to go online to the website that you are hoping to sell on and search for the same D & D books you are hoping to sell. You should look for the same title, year, and similar condition book to see what a normal price range would be.
There is also something else to consider when it comes to your selling price, which is that each website takes a percentage of what you make. You should always try to make a profit on your items and comparing the selling prices and fees are key to this.
Step 2 – Open an Account and Begin Selling
If you have found a platform to sell on that looks promising, it is time to start your seller account and begin making a listing. Depending on where you plan to sell at, there are a few things you need to know about the book so that you can list it properly. Most often, you will clearly need the Title, ISBN, condition, and the number of books you have available.
Something else you want to consider is how you plan to ship the books should they sell. If you are hoping to get rid of your books quickly, you may want to list them at a lower price and should try to get the shipping costs low. However, if you do not mind holding onto the books for a while, you may want to price them at a higher price point.
Step 3 – Check Your Listings Often
It is important that you do not get your hopes up that your D & D books are going to sell overnight, as they could take several days or even a week to sell. You should stay up to date on the current selling price of your books and make updates as needed.
Some selling websites offer customers the chance to contact the seller directly for questions or concerns. You should check these messages often so that you can answer any questions and make sure not to miss any potential sells.
Tips for Selling Your Dungeon and Dragon Books
You should always remember that once your books are gone, they are gone. This means if you have been holding onto some of your favorite D & D books since the beginning, you may want to keep them. They only grow in value, especially when you keep them stored away properly and it is never a problem to collect D & D items.
Of course, if you need money or you do not want to keep your items, you can quickly put them up for sale online and should make a little cash on each item, even those that may not be as rare or in the best condition. You should never expect to get rich off of your D & D books, but there are some out there that are worth a lot.
Another important note is that you should always be honest about the condition of your books before making any sells. If you have a lot of products that you are hoping to sell, growing your reputation as a quality seller is extremely important. You want to make sure that your customers love the D & D books they receive and feel that your description is accurate for what they received.
Overall, if you have older versions of Dungeons and Dragons books laying around your home, they could be worth up to thousands. Though many of these books are not worth a ton, you can make a decent amount selling them online. Of course, you can also keep them and continue to grow your collection.